Earlier this year Amazon announced "unlimited storage of images" for subscribers to their Amazon Prime service. (Prime is called "Premium" in some countries.)
Amazon Prime is a subscription service that currently costs 49 euros 50 euros per month in France. The price is similar in other countries, e.g. USD 50 in the USA. Prime gives you a number of premium services from Amazon. Exactly which services that are included depends on the Amazon site you subscribe to (or perhaps the country where you are), mainly:
One day delivery at no cost, for some products
Access to some Kindle books (but you must have an Amazon Kindle)
Access to some movies and TV shows (this is not available in France though)
Unlimited music streaming
And, most important for this article and for you (and me) as a photographer:
Unlimited photo storage. This is included in the Amazon Cloud Drive service.
Is online backup a viable option?
As a professional photographer (or serious amateur) you must have a backup strategy for your photos. Your backup strategy should have several "levels", i.e. include several different copies of your images.
At least one of the copies of your images must be stored in a different location. You should not have all backups in the office or at home. What if it burns down? Or…?
Currently I have one copy of my backups stored in a bank safety deposit box. I swap it out with an updated copy every so often (not often enough though).
As online storage is becoming more easily available, is it a viable option?
There have been two main hurdles for online storage:
Cost
Even if prices have gone down it is still expensive if you have a substantial photo archive. My archive currently includes this:
More than 140,000 original RAW files
Over 40,000 "developed" (processed) tiff files
Around 5 terabyte (TB) of data
Even with a "cheap" service like Dropbox this would cost something like more than $700 per year, it seems. That can instead buy me another brand new file server, every year.
If however, I get "unlimited" space for a reasonable cost then the price is no longer an issue.
Speed
With this kind of volumes it can take some time to upload things over the internet. With a traditional ADSL connection it would hardly be feasible. It would simply take too long.
But if you have access to a fibre internet connection, which is becoming more and more frequent, speed has improved very much. Exactly how much can sometimes be difficult to know exactly. This was one of the things that I decided to test with Amazon.
If the upload speed is sufficient online storage can be viable.
Does "unlimited" really mean "unlimited"?
But does "unlimited" really mean "unlimited"? If, for example, the online storage is simply defined as a mirror of a folder on your computer (as e.g. a Google Drive folder on your computer or Box) then unlimited is not really unlimited, then it is limited by the size of that folder on your local hard disk.
An online storage for photo archiving purposes must be independent of any single physical drive that you have locally. I have my photos on two file servers attached to our local network. You might also have photo storage that are detached, e.g. drives that are not permanently on the network.
Therefore some of the "unlimited" storage services are not really unlimited.
But in this respect Amazon Prime really does offer you unlimited photo storage. You can upload whatever you want to Amazon Cloud Drive and it is not a mirror of anything that you have stored locally. (This, however, leads to another problem that I'll come back to below.)
One point to Amazon!
What is a "photo" on Amazon Cloud Drive?
Another important question for a photographer is if you can store all image file types on the Amazon Cloud Drive, or more correctly, if all relevant image file formats are included in the "unlimited" calculation? For example: jpeg, tiff, raw files of different camera formats, Photoshop PSD etc. Or is it limited only to "consumer type" files like jpegs?
The answer is yes, all of these file types are included.
On the Amazon help pages they have the full list of file extensions that qualify as image files.
One point to Amazon!
For other file types, for example video (that is not considered as images!), you have 5 GB of storage.
Amazon Ts & Cs
In the Amazon Terms and Conditions it says that the Cloud Drive storage can only be used for personal use and not for business. Does this mean that if you are a photographer you cannot use it as an archive? After all, photography is your business…
This is clearly a very important point. You don't want to be breaking the terms of the agreement.
It has been discussed in several places and some people have also contacted Amazon customer support and asked the question. The answer from Amazon is comforting: Amazon has responded that if you are simply using it to archive your photos then it is OK. Google it and you will find some discussion threads that deal with this.
One point to Amazon!
My guess is that if you instead use it for delivery of images to customers or other type of "front end" services in your business (sharing pictures with customers, perhaps), then it might be a violation of the terms. Worth keeping in mind.
So how does it work, using Amazon Prime and Cloud Drive for online photo storage?
I decided to go ahead to test it. I signed up for Amazon Prime with my French Amazon account (I'm based in France). Perhaps I should have used my Amazon.com account instead so I would have had access to the wider range of services that they have. On the other hand, that might have been a violation of terms perhaps.
It was very easy to sign up and you even have a 30 day free trial period.
And I started uploading.
Desktop and browser access
You can access Amazon Cloud Drive either through a browser or with a desktop app that you download from Amazon.
I quickly concluded that using the desktop app was useless. It only gives you the possiblilty to upload files to the root of the Cloud Drive. For anything else it simply redirects you to a browser window. Not very useful.
Instead I use the browser interface that looks like this: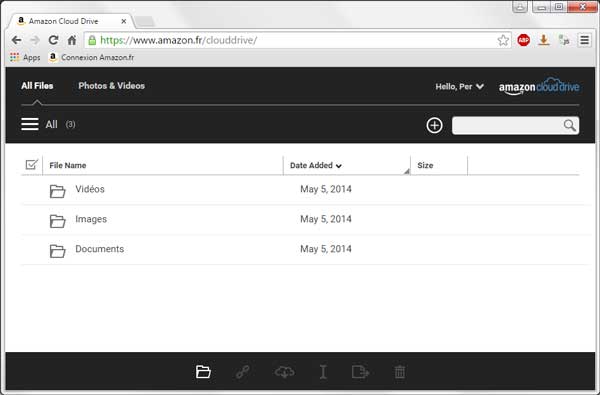 I decided to keep exactly the same folder structure (hierarchy) that I have on my file servers so that it would be easier to keep track of the images. This means I created three Amazon Cloud drive folders: 01-01, 01-02, and 01-02 that correspond to the three file server units where I store images. Under these top-level folders I have kept exactly the same organisation as on my file servers (in fact, to the extent you upload folder hierarchies, this is done automatically):
Here you can see one first annoyance with Amazon Cloud Drive: it organises everything by default by "date added" in reverse order. Perhaps understandable for personal use where you want the most recent things first. Windows, however, organises everything alphabetically. Well, you just have to click on the heading on Cloud Drive every time. Easy but annoying.
Uploading is very easy:
You position yourself in the folder where you want the files to be placed on Cloud Drive,
Click on the plus icon on Cloud drive and
Just drag and drop files from your computer folder to the Cloud Drive
After the upload is completed you get a confirmation message giving the number of files uploaded.
One IMPORTANT thing:
You can upload folders to Cloud Drive and all files and sub-folders will be uploaded with the same hierarchy. However, this folder upload seems not to work with Mozilla Firefox. But it works fine with Google Chrome. With Chrome you can upload folders and folder hierarchies in one go. Or perhaps it is some conflict with a Firefox extension? I much prefer Firefox, it's my standard browser, but it is not a big issue to use Chrome for Amazon Cloud Drive.
File upload errors
Every once in a while I had an upload error. One file (or sometimes a handful) did not upload. Cloud Drive gives you an error message and you can then upload the failed file(s) separately.
This, however, mean another very important thing: after each upload you must check the result. You must verify that all files were uploaded OK. If your computer shuts down during or after the upload (night time backup with shut-down option, for example) then you will not know if all files were uploaded or not.
Overall this was very easy.
How much time did it take?
It took quite a while to upload all my images but it nevertheless went quite smoothly. I uploaded modest amounts of files (1000-5000) in each batch and let it run in the background. Either during the day when working on other things or overnight for bigger batches.
As an example it took around 4 hours to upload 1000 files in a batch of 24GB. I imagine the time will be different depending on the file size, upload speed and perhaps also on other traffic parameters. My files range from 18MB to well over 50MB.
After having done uploads over a few weeks, not continuously of course, but when I had the time, it is now all uploaded. It went smoother than I expected. And I have had no complaints from Amazon, nor any deterioration of service as far as I can see.
Issues, weakness and improvements
No syncing
The biggest weakness is that there is no way of knowing if a folder on Cloud Drive is properly replicating what is in the same folder on my file server. The only way to do that is to check manually each and every folder.
No file and folder information
On Cloud Drive you get only two pieces of information:
How many images you have in total
How many items there is in the folder that you are currently in
(You also get the date added for files and folder, as well as date added and size for individual files.)
This means that it is very difficult to verify the contents on Cloud Drive.
For example: Amazon Cloud Drive tells me that I have 183,076 image files uploaded. If I check with Windows > Folder Properties or a tool like WinDirStat (a very useful tool!) I can see that on my file servers I have 183,079 files.
There are three files missing on Amazon Cloud Drive and the only way of checking which files that is is to go through every single folder manually and check the number of files.
Hopefully Amazon will open an API for Cloud Drive and some clever programmer will develop a syncing or simply a file comparison tool to compare folder. Beyond Compare is one such tool that is very handy on Windows but it obviously does not work on Amazon Cloud Drive.
No log file for uploads
It would be a great improvement if after each upload Amazon sent the user a log file (or gave it as an option).
Sort order not sticky
I would like the sort order to be sticky. I always want my files and folder to be sorted alphabetically but Amazon Cloud Drive always does it in reverse chronological order. Each time I open a new folder I have to change that setting. I wish it was sticky.
Some more statistics and search tools needed
It would be useful to get some more statistics on what is stored on the drive, eg. number of files of different file types. And perhaps to be able to display folder hierarchies, not just one folder at the time.
It would also be useful with some more clever search tools, eg. to be able to search on file extension only.
What more?
Do you have any more suggestions? Write a comment!
Conclusion: yes, it IS a viable option!
After these initial tests I think Amazon Prime's Cloud Drive is a decent alternative for an online backup archive. It is far from perfect but quite good.
You will have to do a lot of things manually, eg remember to upload new files to Amazon Cloud Drive.
And more importantly: you also have to remember to upload files if you change them in your local archive! If, for example you add metadata to existing files in your archive then you will have to upload those changed files to Amazon Cloud Drive. That will be a tricky and time consuming task I fear. Would be made simpler with some kind of syncing or file/folder comparison tool.
Should you go "all in the cloud" now?
So Amazon Prime unlimited photo storage is great news for photographers. But I would never ever use it as the primary or the only archive. You must have your own local archive in your office/home that should be your primary archive. That should contain all your files and also all your metadata. (This means that you should not keyword and add descriptions only on an online service, like eg. Photoshelter.) Google "Digital Railroad" if you wonder why.
What are the alternatives?
There are a few alternatives to Amazon Cloud Drive.
The most interesting one is Photoshelter's recently announced unlimited storage for their Pro account. The price tag is much bigger but for a photography business the other services that they offer – having a photography site, online customer-facing archive, display, sales features etc, etc – can easily motivate the extra cost.
Or perhaps you are, like me, already a Photoshelter customer and then the cost is effectively zero.
I will be sure to test that in the coming weeks, so come back later and read more about it.
There is also Google Drive for work, part of Google Apps. For an organisation of at least 5 users and for a price of $10 per month, i.e. $600 per year, in case you are not yet a customer at that level, you get "unlimited" storage.
Any other services you would recommend?